---
We want you to enjoy wearing your Gushlow and Cole piece for many years to come so here we share our specialist knowledge and give you some helpful tips on how to help clean, care and maintain your suede clothing.
Cleaning
You should not need to clean your suede items often, if at all, however if you decide to clean your suede, always use a specialist dry cleaner. There are different types of suede for example; goat, sheep, calf and nubuck, all of which can have slightly different reactions to dry cleaning. There could be changes to the texture and sometimes it might feel slightly stiff with a minor loss of the suede nap. We therefore recommend only to dry clean your suede if it has had regular use and is looking tired.
Avoid
When wearing your suede items make sure to avoid contact with any oil based substances, for example; makeup, body creams, oils, as well as ink, grease and perfume as they can permanently mark the surface.
Water and Rain
Try to avoid water and rain as this can permanently affect the appearance and texture of suede. If you do get caught in the rain, shake off excess water and hang your garment away from direct heat on a coat hanger.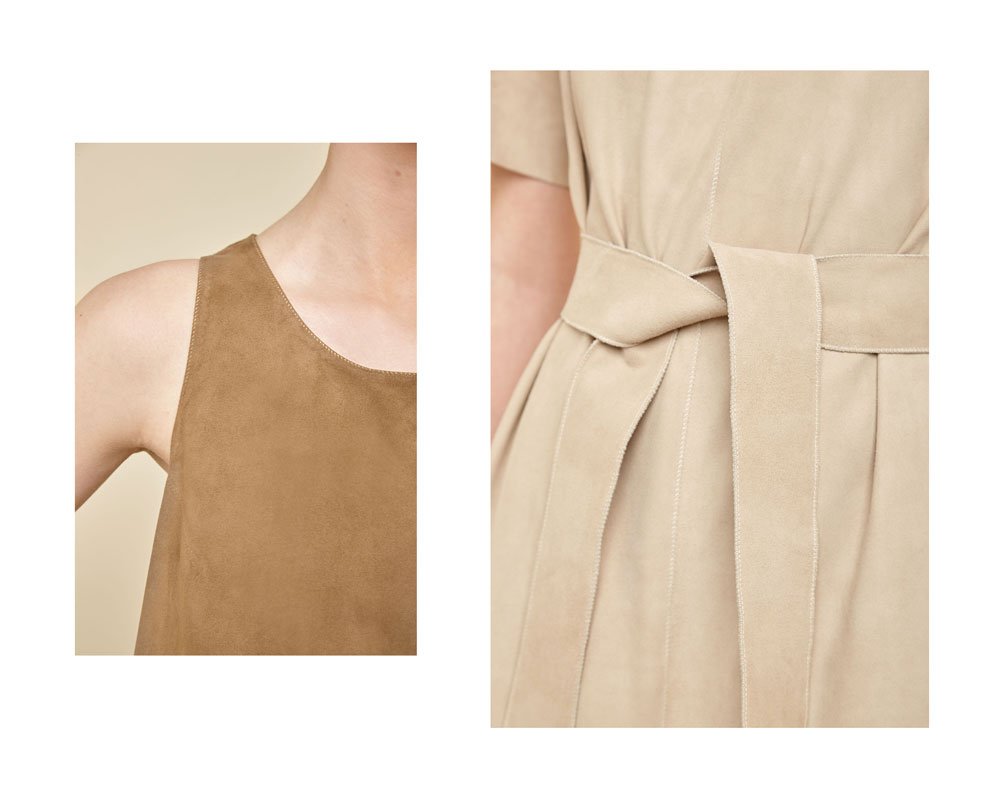 Care without dry cleaning
Regular light brushing will help to revive the pile of the suede. You can remove light marks by gently brushing downwards with a suede brush or colourless dry sponge. A suede block can be used for heavier marks as it is more abrasive than a sponge, however we always advise to rub very gently at first, using the block to blend out the mark. Only use a suede block on the marked area and rub with caution as brushing can lighten the colour of the suede. As a precaution, we advise you test the above techniques on an unseen area of your item first.
Expert tip – at the Gushlow and Cole workshop we have to take extreme care when making our suede collection. The most common marks to occur whilst manufacturing are transferred from the machinery. Occasionally a piece will pick up a grease mark. From over 30 years of manufacturing shearling and leather we have found the best way to remove this is to use talcum powder or lighter fluid (butane).
If using talcum powder, we would place this over the mark and leave this for a few hours. Once we have let this sit, we would then shake off the talcum powder and brush very gently with a dry colourless sponge.
If using lighter fluid, we would dab a small amount of the fluid onto an off cut of the same suede. Working carefully and quickly we would then rub the piece of suede repetitively over the mark, moving in alternating directions. Before using this method to remove a mark, we would always test the reaction of the fluid on a scrap piece of suede.
Please note: this is a highly specialised technique to remove marks on suede and we do not recommend using this method at home.
Storage
Suede needs to be stored in low humidity and in a moderate temperature. We recommend you store your suede in its original Gushlow and Cole dust cover, as this is breathable.
Always hang on a broad shouldered coat hanger as thin wooden or metal hangers can stretch the skin and misshape the shoulders of coats and jackets. Never hang suede over a hook or banister as this can distort the neckline.
Keep your suede away from sunlight and bright light as this can fade and discolour the suede.
Our tip – always hang your suede pieces rather than fold them as suede can permanently crease when left for a long period of time.
Protective sprays
You can protect the surface of nappa and suede shearling by using a leather protection spray. We advise that you test a small unseen area first and follow the instructions.
Please note: all protective sprays will wear off within time.
---
Further help
If you would like professional help or advise removing a mark from your Gushlow and Cole piece then please contact our customer care team who will be happy to help you.
✆ +44 (0) 01959535066
Email: customercare@gushlowandcole.com
PLEASE NOTE: please use the above advice as a guide only and at your own risk. We cannot accept any responsibility for the care tips contained within this article.